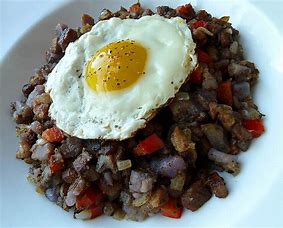 Ingredients:

1 cup arborio rice, prepared according to package instructions
1/3 cup Salado Olive Oil EVOO, divided
1 medium onion, chopped
1 teaspoon dried rosemary
1/4 teaspoon red pepper flakes
4 ounces shiitake mushrooms, stems removed and thinly sliced
2 medium beets (greens reserved), peeled and diced into 1/2-inch cubes (about 2 cups)
1 medium sweet potato, peeled and diced into 1/2-inch cubes (about 2 cups)
3 tablespoons 25-Year Aged Traditional Dark Balsamic Vinegar
2 cups roughly sliced beet greens (from 2 medium beets, you can also substitute Swiss chard or Kale if you cannot find beets with greens still attached)
1/4 teaspoon each salt and freshly ground black pepper
6 large eggs
Directions:
1. Line a 9-by-9-inch baking pan lined with plastic wrap and spray lightly with cooking spray. Prepare rice according to package directions. Spread into prepared pan, pressing in to an even square. Cover with plastic wrap and refrigerate for at least 2 hours or overnight.
2. Heat 2 tablespoons oil in a large skillet or saucepan over medium-high heat. Add onion and cook until translucent, about 3 minutes. Stir in rosemary and red pepper flakes and cook for 1 minute or until fragrant. Add mushrooms and cook, stirring occasionally, for 3 minutes or until mushrooms are softened.
3. Stir in beet and sweet potato, followed by balsamic vinegar. Cover and cook, stirring occasionally, for about 20 minutes or until vegetables are just tender. Add beet greens and sauté until greens are bright green and slightly wilted, about 5 minutes. Season to taste with salt and pepper.
4. Meanwhile, heat 2 to 3 tablespoons olive oil in a large non-stick skillet over medium-high heat. Gently lift rice out of baking pan and set on cutting board. Cut into 9 even squares, then cut each square in half to form triangles. Cook 4 or 5 rice cakes in hot oil, taking care not to overcrowd the pan, and cook until crispy and just barely golden brown, about 2 to 3 minutes per side. Transfer to a paper-towel lined plate and repeat with remaining cakes. Crisped cakes can be kept in a warm oven at 200 degrees until ready to serve.
5. Heat a nonstick skillet over medium heat; spray lightly with cooking spray. Add eggs and cook, either one at a time (for perfect, round eggs) or all at once in a large skillet for speedier preparation. Cook for about 2 to 3 minutes for a runny egg, or flip and cook for another minute if you like your eggs over medium.
6. To serve, divide hash among plates. Top with a fried egg and serve with crispy rice cakes.
Sort: