TOMATO-BASIL SALAD WITH BALSAMIC DRESSING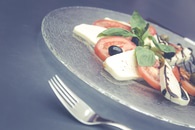 TOMATO-BASIL SALAD WITH BALSAMIC DRESSING

4 med. tomatoes, sliced very thin
2 tablespoons chopped fresh basil
2 tablespoons Salado 25 Year Traditional Dark Balsamic
1 tablespoon Salado House (extra virgin) Olive oil
1/2 teaspoon sugar
1/4 cup finely shredded mozzarella cheese
1/4 cup finely shredded or grated parmesan cheese

On a large platter or serving bowl, arrange the tomato slices and sprinkle with the fresh basil. I laid
these on large lettuce leaves for added color.

In a small bowl, whisk together balsamic, oil and sugar. Pour this mixture over the tomatoes.
Sprinkle the mozzarella and parmesan cheeses on top of tomatoes. I also added sliced Kalamata olives on top.
If you are making this dish ahead of time, cover and place in refrigerator.

I served this salad with homemade spaghetti and garlic cheese bread that I made using a loaf of French bread topped with Salado Olive Oil Co.'s Parmesan Garlic Infused Olive Oil and sprinkled shredded parmesan cheese on top and baked for 10 minutes at 350 degrees.

You can also serve this salad with fish fillets or any other dish you think it would go good with.

Cook, bake and enjoy.
Sort: