Summer Rosemary Fruited Chicken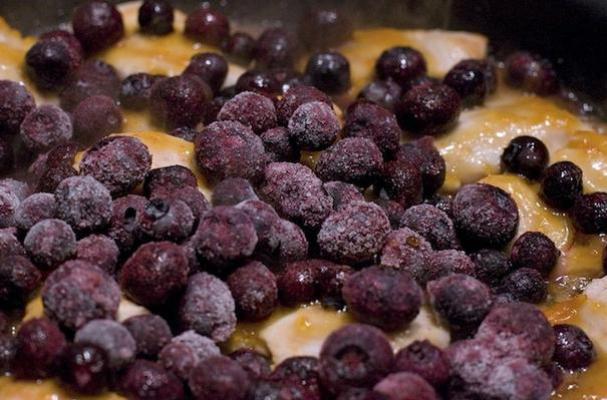 Ingredients:
6 skinless, boneless chicken breasts
2 tablespoons Salado Olive Oil Co.'s Rosemary Infused Olive Oil
2 tablespoons butter (unsalted)
1/4 cup onions or shallots that have been thinly sliced
2 cups fresh blueberries
1/3 cup good maple syrup

Preheat oven to 350 degrees.
Heat 1 tablespoon oil and butter in a large skillet. Add salt and pepper to taste and add the chicken breasts. Cook till golden brown. Remove chicken and place in a large baking dish.
Add remaining oil and butter to the skillet and cook onions or shallots till soft and carmelized. This should take about 4-5 minutes. Add the blueberries and cook for a couple of minutes then add the balsamic, maple syrup. Simmer mixture for about 10 minutes till the blueberries are softened.

Pour this mixture over the chicken and place baking dish in the oven for 20 minutes or until the chicken in completely cooked through.

Serve with your favorite garden salad topped with Salado Olive Oil Co.'s Blueberry Balsamic and green beans with Salado Olive Oil Co.'s Bacon Infused Olive Oil drizzled over the top. (I do crumble dried onions and place on top of the beans).
Sort: