Chicken with Balsamic BBQ Sauce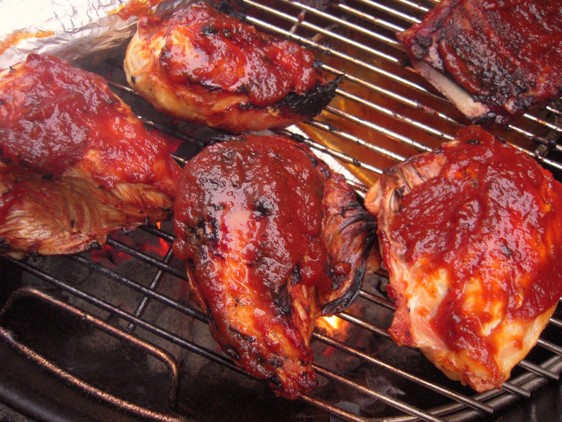 Chicken with Balsamic BBQ Sauce


1 cup Salado Olive Oil Co.'s 25-Year Dark Traditional Style Balsamic VInegar
3/4 cup ketchup
1/3 cup brown sugar
1 clove garlic, minced
1 Tablespoon Worcestershire Sauce
1 Tablespoon Dijon mustard
1/2 teaspoon salt
1/2 teaspoon ground black pepper
4 boneless chicken breasts
Combine all ingredients (except salt, pepper and chicken) in a small saucepan and still until all ingredients are incorporated and smooth. Simmer over medium heat until reduced by 1/3 (15-20 minutes).
Season chicken pieces with salt and pepper. Separate 1/2 cup of sauce. Using a pastry or basting brush, lightly coat chicken pieces with sauce. Place meat on grill and cook approximately 8 minutes on each side (keep sauce warm on the stove, not by the grill).
Take chicken off the grill (juices will run clear when done) and brush with additional sauce. Let rest 5 minutes.
Serve with remaining sauce.
Too cold to grill? Preheat your oven to 375 degrees. Place chicken skin side up (if using bone-in chicken) in a baking dish and bake for 25 minutes. Remove and spoon BBQ sauce over chicken. Return to oven and bake an additional 15-20 minutes. Chicken is done when juices run clear.
Serve with additional sauce for dipping!
Sort: