Spaghetti with Garlic and Oil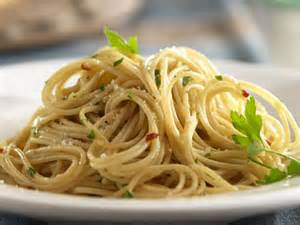 Spaghetti with Garlic and Oil

2 cloves minced garlic
3 tablespoons Salado House Extra Virgin Olive Oil
1/4 cup fresh minced parsley
1/4 teaspoon salt
Pepper to taste
Cooked spaghetti or any other pasta of your choice

In a small skillet, cook garlic in olive oil till golden brown. Add parsley, salt and pepper. Cook for 3 minutes.
Cook pasta in boiling water according to directions on package adding 1 teaspoon salt and 1 teaspoon olive oil. Drain and toss garlic mixture with pasta till completely coated.

This will serve 4-6

I always have a tossed salad as a side with Salado 25 Year Traditional Balsamic as the dressing. While getting everything together, I make a garlic bread with lots of garlic salt and use the Salado Olive Oil Butter Oil. Put in oven at 350 degrees for 5 minutes or until cheese melts. YUM!
Sort: