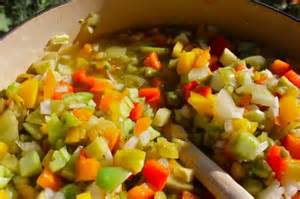 I use this as a universal condiment. Spoon it over burgers and hot dogs, grilled meats, and add mayonnaise to make homemade tartar sauces.
Ingredients: This recipe is so easy you can substitute cabbage, squash, zucchini or other prevalent things available as long as it equals 4 quarts of actual vegetables. Feel free to add more heat or completely leave out the jalapenos.
2 zucchinis diced
4 green tomatoes diced
2 jalapenos minced (Add habaneros if you like more heat or serrano peppers too)
3 onions diced. (You can use your food processor if you don't like chopping vegetables.)
2 carrots grated
2 red bell peppers (Use whatever color you have on hand. Red looks pretty in the jars)
½ cup of salt
2 ½ cups of sugar (both brown and white sugar taste great)
1 teaspoon of turmeric
¼ cup pickling spices
3 cups of vinegar
2 teaspoons dry mustard
Directions:
Dice and chop all of the vegetables and place in a large container. Add salt and allow to remain undisturbed for an hour.
In a separate pot bring the sugar, vinegar, and spices to a boil and reduce to a simmer.
Drain and rinse the vegetables and drain and wring out all of the liquid.
Add the vegetables to the liquids and bring to a boil. Reduce the vegetables to a simmer and cook for another thirty minutes stirring frequently and allowing to thicken. Ladle into canning jars leaving an inch of head space.
Follow the sterilization directions for you jars and complete the process for canning. Make sure you start with sterilized jars, always wipe the rims, and process for fifteen minutes. Make sure all of the jars were properly sealed after they are cooled. Improperly sealed jars should be refrigerated and used soon. Store and label these for pantry use all year round.
Sort: