Orange Glazed Olive Oil Cake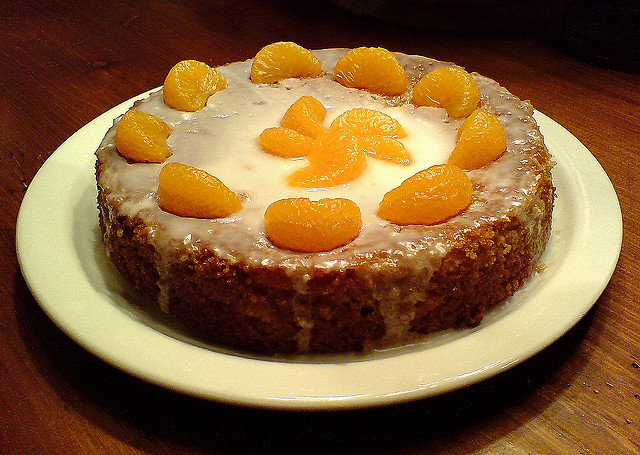 Orange-Glazed Olive Oil Cake

INGREDIENTS
Use unsalted butter and grease a 10 inch round or square cake pan.
Quarter 2 navel oranges
2 1/3 cups sugar
2 1/2 cup flour
2 teaspoons baking powder
1 teaspoon baking soda
6 tablespoons Salado Olive Oil Co.'s House Olive Oil
4 room temperature eggs
1 teaspoon Salado Olive Oil Co.'s Mandarin Orange Balsamic
1/2 teaspoon Sea Salt

Bring 3 quarts water to a boil in a large pot and add the quartered oranges and boil for a few minutes to remove the bitterness from the rind. Put the oranges in a pot with 1 quart fresh water and 1 cup sugar. Bring to a boil and simmer for at least 30 minutes.
Preheat oven to 350 degrees and place a rack in the center of the oven.
Sift flour, baking powder and baking soda and set aside till needed. Take oranges from syrup and discard any seeds. Cut oranges into chunks (peel and flesh) Place into a food processor and pulse until well blended.
Add eggs, remaining 1 1/3 cups sugar, flour mixture and vanilla extract to the food processor. Blend well. Add Salado Olive Oil Co. House Olive Oil and pulse till blended well.
Pour batter into the greased cake pan and bake till cake comes out clean and brown. This usually takes between 40-50 minutes depending on how your oven works.
Remove cake from oven and let it cool for at least 10 minutes. Unmold the cake onto a plate and then flip it onto a cake or wire rack to cool.
While cake cools, make a glaze.
GLAZE INGREDIENTS
1/2 cup fresh squeezed orange juice
1/2 cup confectioner's sugar
1 tablespoon Salado Olive Oil Co.'s Mandarin Orange Balsamic
Combine orange juice, sugar and balsamic in a small saucepan and simmer on low heat till the sugar is dissolved.
Use a long thin knife to prick deep holes all over the surface of the cake and pour half of the glaze over the cake, allowing for it to seep into the cake. Let the cook cool completely and pour the remaining glaze over the cake.
Decorate with sliced Mandarin oranges, if desired. Put cake on serving platter, slice and serve.

You will note that this takes quite a lot of time to prepare, but it is worth every minute.
Sort: