Roasted Cauliflower Garlic Hummus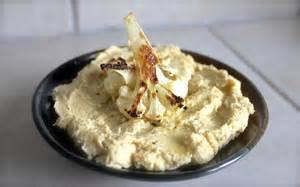 Roasted Cauliflower Hummus
2 Tbsp. olive oil (Recommended: one of the following Salado Olive Oil Co. infused oils for bigger flavor: Roasted Chili and Garlic or Roasted Garlic)
2 tsp ground cumin
1 head cauliflower, cored and cut into 1-1/2" florets
1/4 tsp sea salt (optional)
1/8 tsp freshly ground black pepper
1/2 cup tahini ( Make sure to buy roasted, not raw, tahini. If you're not sure which is which, check the label for roasted sesame seeds.)
3 cloves garlic, smashed and minced into a paste
juice of 1 lemon
1/8 tsp paprika
Directions
Preheat oven to 425°F.
Toss cauliflower, olive oil, cumin, sea salt (if desired) and black pepper together in a large bowl.
Transfer mixture to rimmed baking sheet and spread out evenly.
Bake until cauliflower is browned and tender, 25 - 30 minutes, stirring occasionally.
Combine tahini, garlic, lemon juice and roasted cauliflower in a food processor. Blend until a smooth paste forms (add additional olive oil if desired).
Season with sea salt (if desired) and sprinkle paprika on top.
Serve warm or cold with assorted vegetables.
Sort: