Smoked Balsamic Barbecue Sauce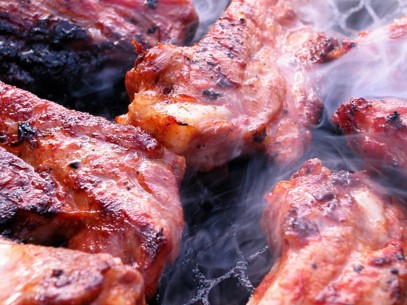 Ingredients
1 cup Smoked Balsamic Vinegar

1 tablespoons olive oil

1/3 cup finely minced shallots (about 1 medium)

2 teaspoons freshly minced garlic (about 2 medium cloves)

1/4 teaspoon crushed red pepper

1/2 cup ketchup

1/4 cup honey

2 tablespoons dark brown sugar

2 tablespoons Dijon mustard

1 tablespoon molasses

1 tablespoon Worcestershire sauce

1/2 teaspoon ground white pepper, plus more to taste

Kosher salt, to taste
Directions:
Bring balsamic vinegar to a boil in a small saucepan over medium-high heat. Reduce heat to low and simmer until vinegar is reduced to 1/3 cup, about 30 minutes. Remove from heat.

Heat oil in a medium saucepan over medium heat until shimmering. Add in shallot and cook, stirring frequently, until softened, about 5 minutes. Stir in garlic and crushed red pepper and cook until fragrant, about 30 seconds.

Stir in reduced balsamic vinegar, ketchup, honey, brown sugar, mustard, molasses, Worcestershire,

and white pepper. Bring to a boil, then reduce to a simmer and let cook until slightly thickened, about 15 minutes, stirring occasionally. Remove from heat. Season with salt and additional pepper to taste.

For smoother sauce, puree with an immersion blender, or in the jar of a regular blender, until smooth. Let cool to room temperature, then transfer to an airtight container and store in refrigerator for up to a month.
Sort: