Strawberry-Basil Shortcake
Strawberry and Basil Shortcake Contributions from Salado Olive Oil Co.
This is not a sweet and savory dessert. The basil does pop and make the strawberry turn out perfect.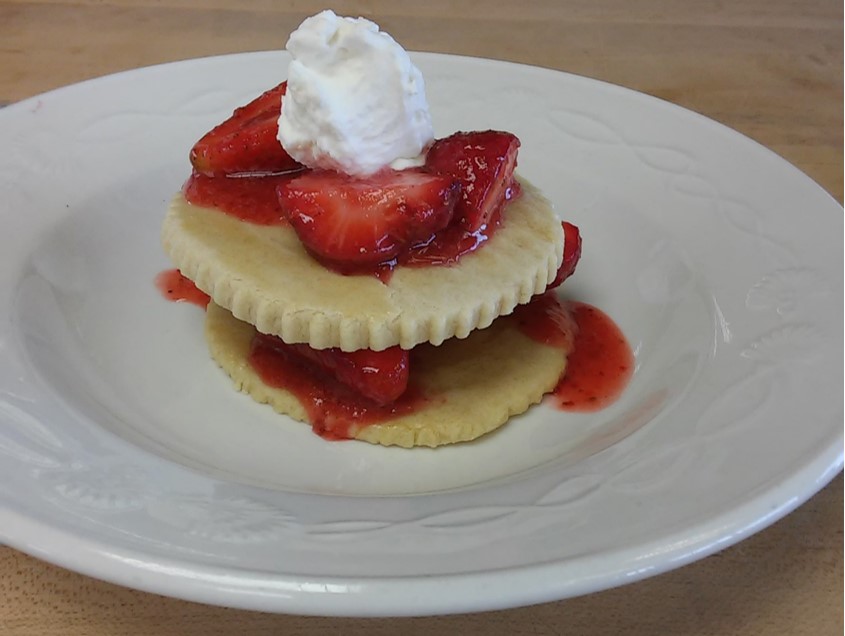 Strawberries:
1 1/2 cup Strawberry puree
¾ cup Granulated sugar
Fresh lemon juice as needed
4 cups Whole strawberries, quartered or halved.
1 teaspoon per cup strawberries each Strawberry-Basil Olive Oil
Shortcake:
1 cup room temperature Butter
1-2 tablespoon Strawberry Balsamic
1 cup Confectioner's sugar
½ teaspoon salt
2 egg yolk*
2 ¼ cup All-purpose flour, sifted.
½ teaspoon Vanilla extract
Cream Chantilly:
Cold metal mixing bowl and beaters
1 ½ to 1 cup heavy whipping cream, chilled
1/3 to 1/8 cup granulated sugar
2 teaspoons pure vanilla extract
Strawberries:
Combine all of the beginning ingredients and refrigerate for a few hours.
Dough:
Combine the butter, Balsamic, sugar, salt, and vanilla extract.
Add more Balsamic, sugar or vanilla to taste.
Add in the egg yolks one at a time.
Add flour and form a ball in bowl. Use a piece of plastic wrap to roll the dough into a log and place in the refrigerator for two to three hours.
Chantilly:
First make sure that the mixing equipment is cold. The Chantilly will not stay stiff otherwise. In the mixing bowl start whipping the heavy whipping cream until forming a thick mousse. Add the sugar and extract. Continue whipping until the cream resembles peaks and before it resembles butter!
Shortcakes Cookies:
Pull from refrigerator the dough and unwrap. Dust a table top and rolling pin. Roll out the firm dough to between ¼ and 1/8 inch. Proceed to cut out 4 inch circles with a cookie/biscuit cutter. Put on a parchment lined baking sheet. Brush with egg wash and place into an oven preheated at 400 degrees for 8 minutes or until golden brown.
Plating Instructions:
Take 2 shortbread cookies and place a dollop Chantilly on them. layer one with strawberry slices overlapping one another and place the other cookie on top with Chantilly facing up. Drizzle strawberry colis and place a few (not many) strawberries on top.
Sort: