Lemon Tarragon Lentil Salad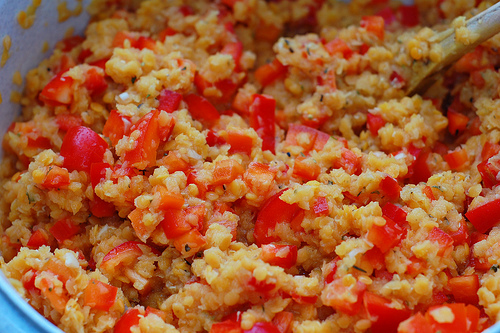 Lemon Tarragon Lentil Salad
Ingredients:
½ cup red lentils (dry)
3 TBSP Tarragon Infused Olive Oil
2 TBSP lemon juice
¾ tsp lemon zest
1 tsp Dijon mustard
2 diced bell peppers (orange, yellow or red)
¼ cup diced red onion
Sea salt
Ground Pepper
Directions:
Bring a medium pot of water to boil. Add lentils and cook until tender, about 15 minutes. Drain and rinse under cold water.
In a medium bowl, whisk together Tarragon Infused Olive Oil, lemon juice and zest, and mustard. Add the lentils, bell peppers and onion. Season well with salt and pepper to taste and toss to coat. Serve immediately…or store in an airtight container for up to 3 days.
Serves 1 as a salad or 2 as a side dish.
Sort: