Porterhouse Steak With Balsamic Sauce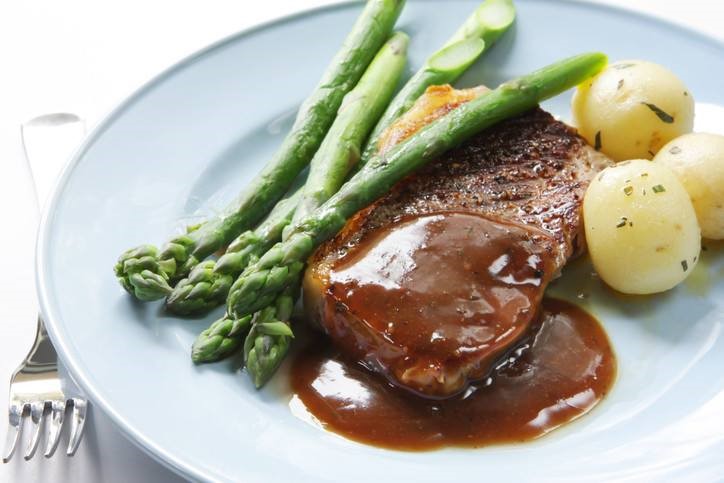 Ingredients:
3-pound Porterhouse Steak
¾ cup Salado Olive Oil Co's 25-Year Traditional Dark Balsamic
2/3 cup Ketchup
¼ cup Honey
2 sliced Shallots,
2 tablespoons Worcestershire sauce,
1 tablespoon dijon mustard,
1/4 teaspoon each allspice, WildFire Smoke Sea Salt & Herb Blend, pepper and sugar
1 tablespoon Butter
Directions:
Preheat a grill to high on one side and lightly oil the grate. Season a 2-inch-thick porterhouse steak (3 pounds) with Hiwa Kai Black Lava sea salt and pepper. Grill over direct heat for 4 minutes, then rotate the meat 90 and cook 2 more minutes. Repeat on the other side. Move the steak to the cooler part of the grill (position the smaller end away from the heat); cover and cook until the meat reaches 128 to 130 for medium-rare, 12 to 15 minutes. Let rest 5 minutes before slicing.
To make the sauce, simmer 3/4 cup Salado's 25 Year Old Traditional balsamic vinegar, 2/3 cup ketchup, 1/4 cup honey, 2 sliced shallots, 2 tablespoons Worcestershire sauce, 1 tablespoon dijon mustard, 1/4 teaspoon allspice, and WildFire Smoke Sea Salt & Herb and pepper and sugar to taste until thickened, about 15 minutes. Strain, then whisk in some butter.

Recipe courtesy Salado Olive Oil CO By Tyler Westrum, Owner
Sort: