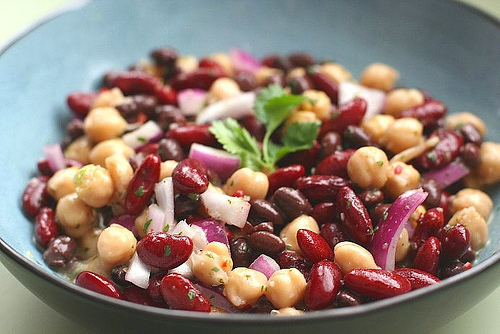 Three Bean Salad
Ingredients:
15 oz. cans garbanzo beans
15 oz. cans pinto beans
15 oz. cans kidney beans
½ onions diced (Red work well if you like more onion flavor. I like sweet Vidalia Onions)
1 small green bell pepper, chopped (Feel free to use different colored peppers here too. Orange, yellow and red are pretty)
1 Tbsp. parsley, chopped (Feel free to use just cilantro here)
1 Tbsp. fresh cilantro, chopped (Use what you have on hand and can just use parsley)
1/2 c celery
1/3 c Salado Champagne vinegar or the 25 Traditional Balsamic vinegar
1/4 c sugar
¼ c Salado House Olive Oil (Want a spicy kick? Use the Salado Jalapeno Olive Oil)
1/4 tsp dry mustard
Salt to taste
Directions:
Drain all the beans and combine into a large mixing bowl. Add the onion, bell pepper and celery. In small bowl, combine vinegar, sugar, olive oil, salt, mustard, cilantro, and parsley. Pour over beans and veggies; toss to mix well. Cover and refrigerate several hours or overnight, stirring occasionally.
Sort: