Brown Butter Lobster Ravioli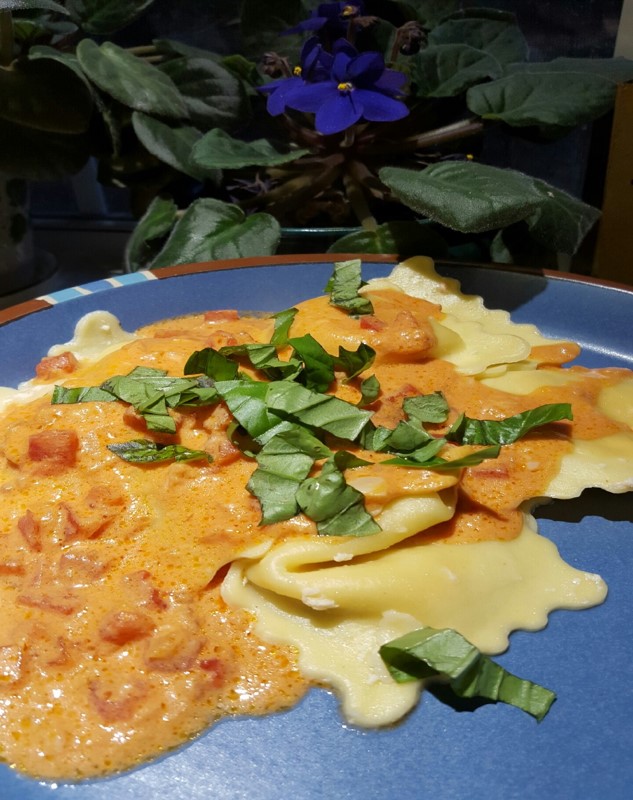 Brown Butter Lobster Ravioli with Tomato Cream Sauce
Don't be intimidated by making your own ravioli. Believe it or not, Wonton Wrapper work great in a pinch!
Ingredients:
Ravioli
1 pound fresh pasta dough, rolled into lasagna sheets (you can also use 50-60 wonton wrappers)

3 lobster tails

1/4 pound uncooked shrimp, peeled, deveined

1/2 cup butter

2 large cloves garlic, minced

1/4 cup fresh parsley, chopped

1 teaspoon lemon juice

1 teaspoon crushed red pepper flakes

8 ounces ricotta cheese

1/2 teaspoon pepper, plus more to taste

1/2 teaspoon salt, plus more to taste
Tomato Cream Sauce:
2 tablespoons butter

1/2 whole medium onion, finely diced

4 cloves garlic, minced

1 can (15 ounce ) tomato sauce

1 can (15 ounce) diced tomatoes

salt and pepper, to taste

1 cup heavy cream

1/4 fresh parsley, chopped

1/4 cup freshly grated parmesan cheese, plus more fore serving

1/2 cup fresh basil, chopped

A drizzle of Salado Olive Oil Co.'s Balsamic (we prefer our 25-year Dark Traditional , Pear or Smoked for this recipe)
Directions:
Ravioli
Prepare the pasta dough, cover with damp cloth and set aside.
Place the lobster tails on a cutting board, using kitchen shears or a sharp knife, cut through the top shell lengthwise. Gently pull the shells apart away from the meat. Heat a large pot of water and steam the lobster tails and shrimp for about 7 minutes (I used a mesh strainer and it worked great). Start checking the shrimp at about 4 minutes and maybe flip them around to the other side. Remove the lobster and shrimp and allow to cool. Once cool, finely chop the meat. Set aside.
Place butter in a small saucepan over medium heat and immediately begin whisking. Stir as it bubbles, and after 2-3 minutes or so you should see brown bits appear on the bottom of the pan. Remove from heat immediately and continue to whisk for another 30 seconds or so. Add the garlic stir well. Add 1/4 cup chopped fresh parsley, lemon juice, crushed pepper flakes (if using), salt and pepper. Stir in the chopped lobster and shrimp. Add the ricotta cheese and mix well. Set the filling aside.
Heavily flour your ravioli mold or counter.
Lay one sheet of pasta on the mold, making sure the entire mold is covered. Take a tablespoon of filling and place into each well. Spritz the pasta sheet with a little water. Lay the second sheet on top and run a rolling pin over to seal. Turn the mold over and release the ravioli. They will not be separated. Use a pizza cutter to cut apart. Lay the ravioli on a parchment lined baking sheet and continue making ravioli until you've used all the lobster filling. Make sure to cover the raviolis with a damp cloth as you work. If you are using wonton wrappers, simply set a tablespoon of filling in the middle of the wrapper and proceed as above. At this point you can freeze the raviolis for later or boil.
Bring a large pot of salted water to a boil if you intend to cook any ravioli now..
Tomato Cream Sauce
Heat butter and oil over medium heat in a medium saucepan. Add onions and saute for 5 minutes until they begin to soften and caramelize. Add the garlic and saute for a minute. Pour in tomato sauce, diced tomatoes, salt and pepper to taste. Stir and cook over low heat for 15 to 20 minutes, stirring occasionally. Using the back of a fork break any large chunks of tomato up.
Remove from heat and stir in cream. Add cheese to taste, then check seasonings.
Cook the ravioli in the boiling water for 2 minutes, until it is floating. Remove from water and add directly to tomato sauce. If desired stir in pasta water to thin sauce. Stir in chopped parsley. Serve with grated parmesan cheese, a drizzle of Balsamic, and fresh basil before serving.
Note: The use of Balsamic as a finishing touch really makes the flavors in the ravioli and sauce pop. At first it may seem odd, but trust us on this one.
Sort: