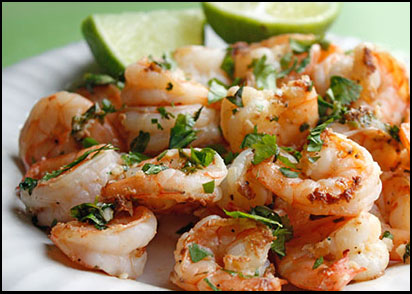 Salado Olive Oil Company has one of the largest selections of amazing Balsamic Vinegars and luscious Olive Oils. It is easy to get in a rut and simply use my favorites day in and day out. The best part of restocking the shelves is finding my new favorite! Our Salado Cilantro and Lime Olive Oil is FANTASTIC! The subtle taste of cilantro is gently blended with the fresh lime taste to make a clean and beautiful pairing in a delicious olive oil. Here is tonight's menu.
Cilantro Lime Shrimp
Ingredients:
1 1/2 pounds peeled and deveined shrimp
2 teaspoons Salado Cilantro Lime Olive Oil
Juice from one lime
Salt and pepper to taste
Chopped fresh cilantro for color and garnish
Directions:
Peel and devein the shrimp
Heat a large nonstick skillet over medium-high heat. Add the Salado Cilantro and Lime Olive Oil 1 Teaspoon per batch to the pan. The shrimp will cook best if you make it in two batches so as to not overcrowd, overcook or even undercook the shrimp. Cook the shrimp about two minutes per side and then transfer to a plate to cook second batch. Return both batches to the pan, squeeze the juice from the lemon and salt and pepper and toss with the fresh cilantro in the pan. Serve immediately.
Other ingredients that work well with this recipe are jalapenos, red pepper flakes for more heat, garlic for more tangy and fresh zest for more punch. Honey can be added for a sweeter fare. I like to eat this over rice.
Sort: