Salado Olive Oil Pork Tenderloin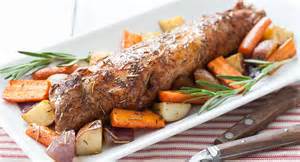 If you like pork tenderloin like we do at our house, you will love this recipe..
You will need the following:
1-2 lb. pork tenderloin, trimmed of fat
2 tablespoons Salado Olive Oil Co. extra virgin olive oil
1 med. size onion chopped fine
2 cloves of garlic that have been minced
1/4 cup ketchup
2 cups fresh or frozen cubed rhubarb
1/4 cup brown sugar
2 teaspoons Worcestershire sauce
salt and pepper to taste
Preheat oven to 425 degrees.
Heat 1 tablespoon oil in a saucepan. Add onion and garlic. Cook till soft then add the rhubarb, ketchup, brown sugar, Worcestershire sauce. Bring to a low boil and cook till all are soft. This will take about 10-12 minutes. Cover and remove from heat.
Heat 1 tablespoon oil in large skillet that is ovenproof. Salt and pepper the tenderloin. Add tenderloin to skillet and sear all around the meat.
Put meat in skillet in oven and bake about 15-20 minutes till meat is done. Transfer the meat to a clean cutting board and let rest for at least 5 minutes.
Slice and serve with the sauce poured over it. ENJOY!!!
Sort: