Israeli Couscous with Summer Veggies and Feta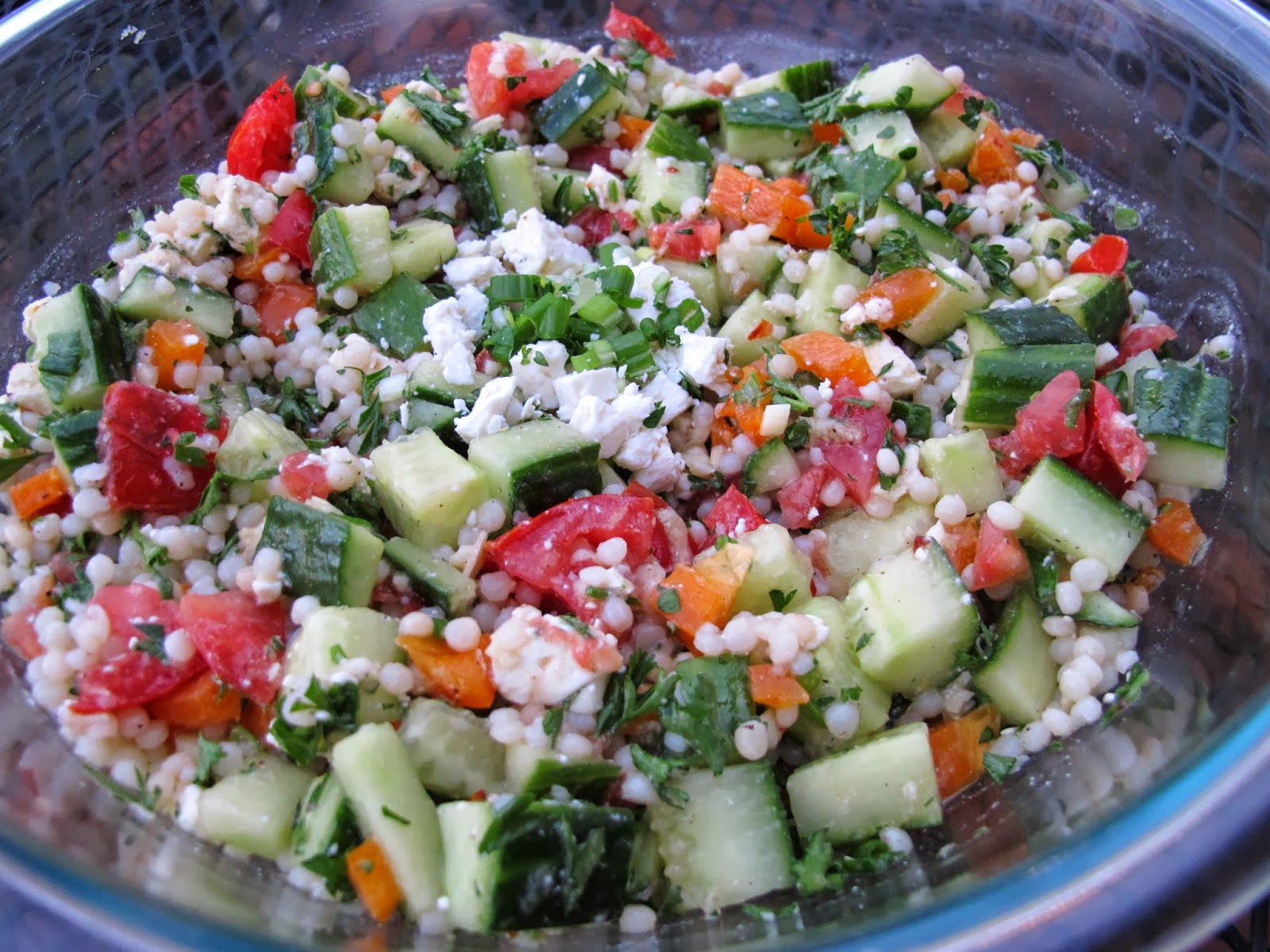 Israeli Couscous is sometimes referred to as "pearled couscous", and it's more of a pasta than a grain. This recipe is quick to throw together and simply delicious. The Mediterranean and Middle Eastern flavors blend beautifully in this simple dish.
1 cup of Israeli couscous

1 cup of water

¼ red bell pepper - finely diced

½ English cucumber - finely diced

1 cup grape tomatoes - sliced in half

2 tbs red onion - minced

1 small handful of fresh mint - minced

10 Kalmata olives - roughly chopped

2 oz of feta - diced

2 tbs

Salado Olive Oil Co EVOO

, plus1 tsp EVOO

8 twists of black pepper from a pepper mill

A pinch of salt
Heat a sauce pan over medium heat and add one tsp of olive oil. Once the oil is warm - about 30 seconds - add Israeli couscous and stir for a minute or two until Israeli couscous is slightly toasted.

When couscous is toasted - add 1 cup of water. Be careful, the pan is hot and the water may bubble and splash.

Turn heat down to low and simmer couscous for the amount of time on package instructions.

While couscous is cooking, dice red pepper and cucumber.

Next, slice tomatoes in half and add to the other vegetables in the bowl.

Mince mint and red onion. Add to the vegetables in the bowl.

Roughly chop olives and add to the bowl.

Dice feta cheese and set a side.

Whisk olive oil, White Lemon Balsamic Vinegar, black pepper and salt together.

When Israeli couscous is ready, add to a fine mesh sieve and rinse so that the couscous cools (and eliminates the starch). Shake the fine mesh sieve thoroughly so that the couscous is fairly dry.

Add Israeli couscous to the bowl of vegetables. Add the dressing and toss to combine.

Add feta cheese to couscous and vegetables and toss gently to combine.

Chill for 30 minutes before serving
Makes 2-4 servings.
Sort: