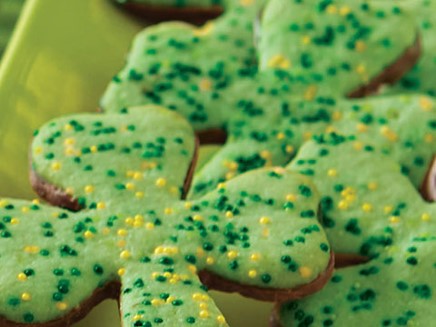 Ingredients:
1 cup of unsalted butter, softened
2 1/4 cups flour
1 teaspoon baking powder
1/4 teaspoon salt.
1/4 cup cocoa powder (unsweetened).
1/2 teaspoon cinnamon (optional)
Buttercream Frosting (recipe below)
Directions:
Mix butter and brown sugar in a large bowl or bowl that fits an electric mixer and whip till all is mixed well. Add egg, balsamic and mix until blended.
Shift flour, baking powder and salt. Add cinnamon and mix well.
Add small amounts of the flour mixture to wet ingredients, blending until all is combined.
Place the dough in a large plastic bag and put in the refrigerator for at least 1 hour to chill.
Pre-heat the oven to 350 degrees.
Sprinkle more cocoa powder on cutting board. Add the dough and roll out to about 1/4 inch thickness.
Using your favorite cutter (shamrocks, anyone?), cut the dough and place the cookies on a parchment paper lined cookie sheet pan and bake them for at least 8-10 minutes.
Remove and let cool then place them on a cookie rack until ready to frost.
Ingredients:
2 sticks unsalted butter, softened
4 cups powdered sugar, sifted
1/4 cup heavy cream (whipping cream), additional if needed
Beat till smooth and add your green food coloring
Frost cookies when they are completely cool. Eat and enjoy!
Sort: