PUMPKIN BREAD PUDDING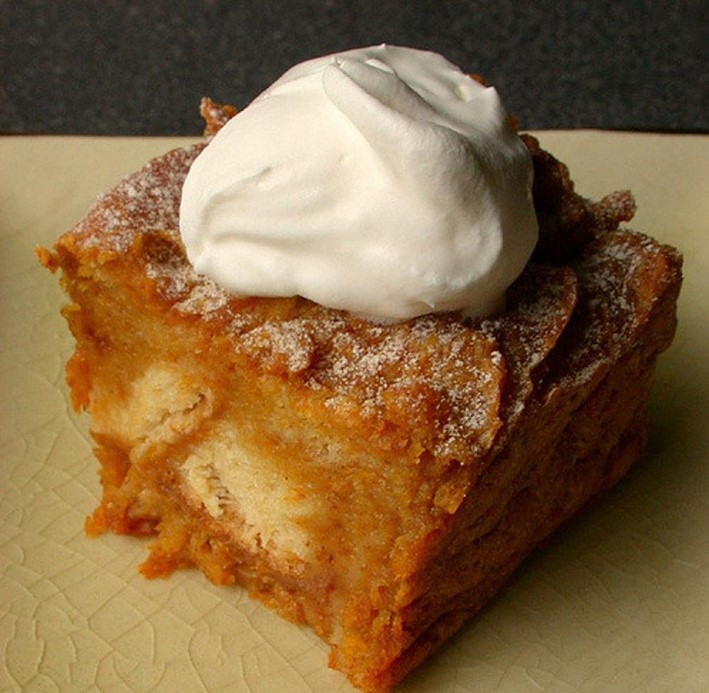 Ingredients:
4 cups white bread cubed 4 large eggs
1 1/2 cups whole milk 1 1/2 cups heavy cream
3/4 cup canned pumpkin 1 cup sugar
1/4 teaspoon salt 2 tablespoons butter cut in small pieces
1 tablespoon Salado Olive Oil's Pumpkin Pie Balsamic
Directions:
Turn oven on to 350 degrees and grease a 13x9x2 inch pan. Place bread cubes in the pan and mix all ingredients except the butter and pour over the cubed bread. Let this sit about 10 min. till all the liquid is absorbed. Dab butter over the top and bake for 40-50 minutes.

If you wish, you can make this delicious creme sauce to put over the top before you serve it.

1 cup whole milk
1 cup heavy cream
2 teaspoons ground ginger (optional)
1 teaspoon vanilla
5 egg yolks
1/2 cup sugar

Bring milk, cream, ginger an vanilla to a boil and remove from heat. In a small bowl, whisk the egg yolks and sugar until smooth. Slowly pour 1/2 of the milk mixture into the egg yolk mixture whisking constantly. Gradually add the remaining egg yolk mixture into the milk mixture and continue stirring.
Return pan to stove and cook till mixture coats the back of a wooden spoon. Pour over the warm bread pudding and serve. This recipe serves 8-10 people. Eat and enjoy!
Sort: