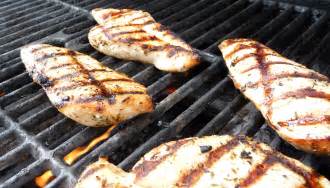 INGREDIENTS:

½ cup buttermilk (or, if you don't have buttermilk, use ½ cup whole milk and 1 TB lemon juice)
¼ cup Tarragon Infused Olive Oil
2 TB Dijon Mustard
4 boneless, skinless chicken breasts
1 TB fresh chopped dill
DIRECTIONS
In a small bowl, whisk together buttermilk, olive oil, mustard and lemon juice. Let sit 10 minutes to thicken.
Place chicken in large resealable bag. Pour in the marinade, and gently coat the chicken. Place in refrigerator and marinate several house (1-4 hours).
Preheat grill to 425 degrees..
Remove chicken from marinade. Grill for 10 minutes each side. Chicken is ready when there is no pink inside and juices run clear.
Remove and place on platter. Sprinkle with fresh dill.
Serves 4
Sort: