Fig Balsamic Pork Tenderloin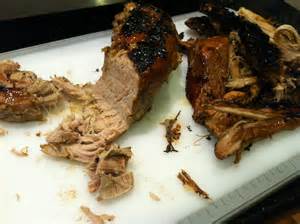 Ingredients:
20 oz pork tenderloins

kosher salt, to taste

1/4 tsp garlic powder

1 1/2 tbsp balsamic vinegar

2 tbsp fig butter

(optional) chopped parsley for garnish
Directions:
Preheat the oven to 375°F. Season the pork with salt and garlic powder and place on a baking pan. Combine the vinegar and fig butter and generously brush it all over the pork.
Roast until the center of the pork reaches 145°F with a meat thermometer, about 25 to 30 minutes depending on the size of your pork and your oven. Let it rest for 10 to 15 minutes before slicing into 8 pieces. Top with parsley if desired.
Sort: