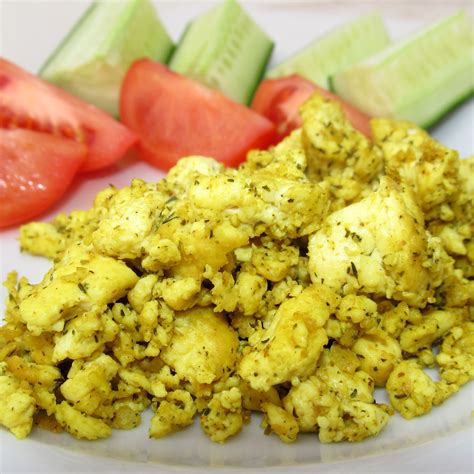 250 grams firm Tofu or 17.6 oz

1-2 Tablespoons Olive Oil

2-3 stalks fresh Spring Onions or 40 grams or 1.4 oz

¼ Teaspoon Black Pepper

½ Teaspoon Cumin Powder

½ Teaspoon Coriander Powder

¼ Teaspoon Turmeric Powder (aka Curcuma)

Salt to taste

optional: Paprika or Cayenne Pepper powder or Chili Sauce to garnish ( I used Paprika + Tabasco)
Unpack and place your tofu block into a colander so that we get rid of some of the water. Place the tofu into a mixing bowl and with a fork start mashing the tofu to create something that looks like a scramble. Keep aside.

Slice your Spring Onion, reserve the green parts to garnish the finished scramble.

Grab a pan, heat up add the olive oil and stir-fry your sliced white part of the spring onion.

Now add the tofu and stir fry on medium heat. To season add the spices one by one, including black pepper, cumin, coriander, and turmeric. Stir fry the whole content so that the spices cover all the scrambled tofu evenly.

Do that for 2-3 minutes until you feel it' s right. The vegan egg scramble is ready when it's cooked but not too dry.

Add to your plate and garnish with the green cut spring onion parts and optionally with paprika or spicy hot cayenne pepper (red chili) powder.
Sort: