Greek Salad with Oregano Marinated Chicken
Greek Salad with Oregano Marinated Chicken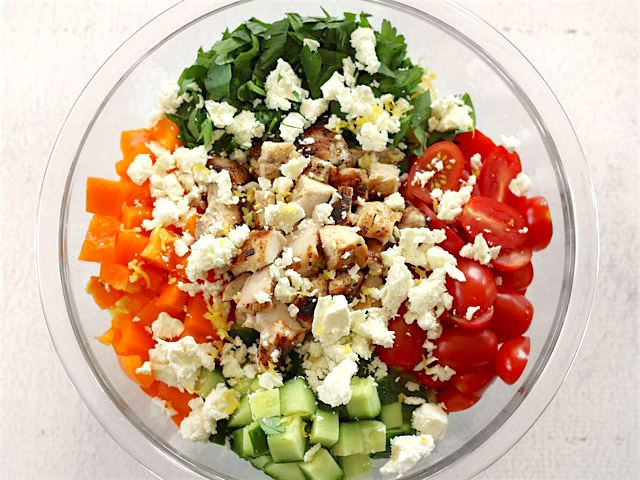 Ingredients:
Juice of 1 lemon
2 tablespoons Salado Extra Virgin Olive Oil
1 teaspoon dried oregano
salt to taste
Fresh ground pepper to taste
4 boneless skinless chicken breasts (I cut these in two if they are really big)
Directions:
Combine lemon juice, olive oil, oregano, salt and pepper and add the chicken breasts . Put in zip lock bag and close tight. I put the bag in a bowl in case it leaks. Place chicken mixture in the fridge and leave for at least 30 minutes or up to 4 hours.

Remove chicken from bag and cook in a nonstick skillet or grill until done, browning well but not letting them burn. Remove from heat then slice into strips. Let cool and place on top of a garden salad. Add dressing to chicken salad mixture and serve.

Homemade dressing recipe

1/4 cup Salado Olive Oil Co.'s Extra Virgin Olive Oil
2 tablespoons red wine vinegar
juice of 1 lemon
grind 2 garlic cloves into small pieces
1 teaspoon dried oregano
salt and pepper to taste

Combine ingredients in a jar and place in refrigerator until ready to use, then bring to room temperature . Before adding to chicken and salad, remove garlic pieces and shake well. Cover salad or let everyone put their own dressing on. This allows them to choose how much they want on their salad.
Sort: