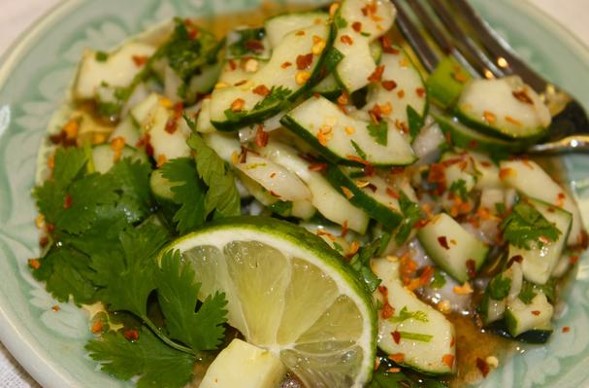 Ingredients:
2 English Cucumbers, thinly sliced
2 green onions, thinly sliced
1 tablespoon sea salt
1 tablespoon toasted sesame seeds
2 tablespoon Toasted Sesame Lemongrass Ginger Oil
1 tablespoon White Honey Ginger Balsamic
1 tablespoon Roasted Chili and Lime Infused Olive Oil (If you prefer heat -- like we do -- add an additional tablespoon)
Directions:
Place thinly sliced cucumbers into a colander and sprinkly with salt. Allow them to sit for 20-30 minutes. Rinse and pat dry. Place cucumbers and sliced green onion into large mixing bowl.
Whisk together Sesame Lemongrass Ginger Oil, Honey Ginger Balsamic and Roasted Chili and Lime EVOO. Pour over cucumbers and green onions. Toss to blend.
Place into serving dish and sprikle with toasted sesame seeds. Store in refrigerator until ready to serve.
Note: This is best when eaten the day it is made.
Serves: 4
Sort: