FLANK STEAK WITH TOMATO-BALSAMIC SAUCE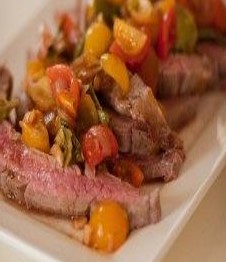 FLANK STEAK WITH TOMATO-BALSAMIC SAUCE

1 tablespoon Salado Olive Oil Co.'s Extra Virgin Olive Oil
1 pound trimmed flank steak
1/2 teaspoon salt
1/2 teaspoon fresh ground pepper
1 onion sliced thin
1/4 cup Salado Olive Oil Co.'s Traditional 25 Year Balsamic
2 cups cherry or grape tomatoes halved
1/3 cup fresh chopped basil
1/3 cup sliced green onions
3 thin sliced garlic cloves

In a large skillet, heat olive oil. To the flank steak, salt and pepper both sides and add to the hot skillet and cook 3-5 minutes on each side for your desired taste. Place steak on cutting board to rest for 5-10 minutes. Cut steak into thin slices cutting across the grain.

Add garlic and onion and saute until lightly browned. Add balsamic and cook for 1-2 minutes until most of the juice has evaporated. Add tomatoes, 1/4 cup of the basil, 1/4 cup green chopped onions and 1/4 teaspoon pepper. Cook mixture about 2-3 minutes till tomatoes are soft.

Place steak on serving platter and top with tomato mixture. Sprinkle remaining basil and a few sliced green onions for garnish.
Serves 4.
Sort: