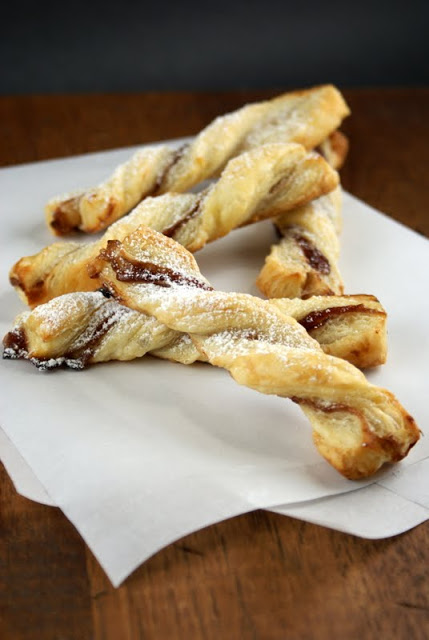 Strawberry Twists
Strawberry Balsamic Jam

1 Lb. Strawberries stems removed and coarsely chopped
¾ C. Sugar
¼ C. Salado Olive Oil Co. Strawberry Balsamic Vinegar
Fresh Lemon Juice

Combine the strawberries, sugar, and Strawberry Balsamic in a large saucepan. Bring to a simmer over medium to high heat. Then lower the heat to maintain a gentle simmer and cook. Break up the large pieces and stir periodically until the jam thickens. Remove from the heat and squeeze about a tablespoon of lemon juice and stir. Taste and add more lemon juice if desired. Store in an airtight container in the refrigerator for up to a month. It never lasts that long at my house.

The fancy twist is also a fun and easy pastry to whip together with only a couple items. They taste great and I can never eat just one.

Strawberry Twists

1 package puff pastry
1/3 C. Strawberry Balsamic Jam
Flour for dusting
Powdered sugar for sprinkling

Preheat oven to 400 degrees.

Allow puff pastry to thaw as directed on the package. Dust work surface with flour and lightly dust rolling pin with flour. Roll out puff pastry until about 2" larger on each side. Cut into two rectangles.

With a pastry brush, coat one piece of puff pastry with half the jam. Cover jam-coated piece with the remaining plain piece of puff pastry and gently roll together with rolling pin - not too hard, or your jam will squish out.

Slice into long or short strips and twist, then place on parchment lined pan. Bake for 15 minutes or until golden brown. Let cool before removing from the pan. Sprinkle generously with powdered sugar.

Repeat process with second sheet of puff pastry.

A couple pointers: Don't eat powdered sugar treats while wearing black and feel free to substitute store bought jam in your favorite flavor. I won't tell.
Sort: