Grilled Balsamic Meat and Vegetable Hoagies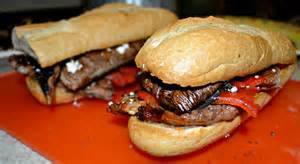 Grilled Balsamic Meat and Vegetable Sandwich
Ingredients:
1 pound chicken breast cut into tenders
4 ounces of provolone cheese slices
4 teaspoons Salado Olive Oil Co.'s House Olive Oil, divided
1/2 cup 25 Year Traditional Balsamic Vinegar, divided
2 red bell peppers cut into thin strips
1 large onion cut into thin strips
1 loaf of French bread, Italian bread, focaccia. (I use what I have on hand)
Salt and pepper to taste

Directions:
Dry chicken breasts with a paper towel and season with salt and pepper. Heat 2 teaspoons of our Salado House Olive Oil in a large skillet. Brown the chicken tenders. Add the ¼ cup of our 25 Year Old Traditional Balsamic Vinegar cooking until the chicken is completely done and the vinegar is like a syrup. Keep warm.

In another pan on medium-high heat add the remaining 2 teaspoons of Salado House Olive Oil to the pan and sauté the peppers and onions until tender. Add the remaining Balsamic Vinegar and cook for two minutes or until the vinegar is syrupy.

To assemble the world's greatest sandwich have the hearty sliced bread cut, place the chicken, veggies and cheese over one side. Cover with second slice of bread and place a large pan on top to help the cheese melt. Cut on the diagonal and serve warm. I use the leftover meat and vegetables if any to put on top of a spinach salad the next day. SUPER!
Sort: