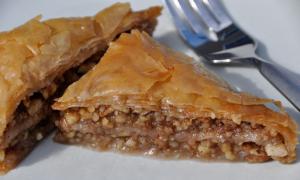 Baklava is a staple sweet in the Mediterranean and Middle Eastern Regions. While it may seem complicated to make, it really isn't! Here's our take on this delicacy.
Ingredients:
1 lb. phyllo dough
6 ounces blanched almonds
6ounces roasted walnuts
6 ounces roasted pistachios
2/3 cup sugar
1 tablespoon ground cinnamon
1 tablespoon freshly grated blood orange zest
1 cup plus 1 tablespoon Blood Orange Infused Olive Oil
Syrup:
1 cup honey
1/2 cup water
1 cup blood orange juice
1 cup sugar
1 cinnamon stick
2-inch strip blood orange zest
Instructions:
Preheat oven to 350 degrees. Grease bottom and sides of a 9x13-inch pan with Blood Orange Infused Olive Oil
Place sugar, orange zest and cinnamon into the bowl of a food processor and pulse until combined and finely chopped.
Unroll and cut the phyllo sheets in half to fit pan. Cover the phyllo sheets with a clean, dampened dish cloth to keep them from drying out. Place two sheets of dough in the pan. Brush with Blood Orange Infused Olive Oil thoroughly. Repeat the process until there are 8 layers. Spinkle 3 tablespoons of nut mixture on top. Top with 2 sheets of dough, blood orange olive oil, and nut mixture, layering as you go. The top layer should be 6-8 sheets thick.
Using a sharp knife, cut the baklava into diamond shapes, all the way to the bottom of the pan. Bake in the enter of the oven for 45-50 mionutes, or until baklava is golden brown and crisp.
While pastry is baking, make the syrup. In a heavy saucepan, combine water, sugar and juice. Bring to a boil. Add honey, cinnamon stick and orange peel. Simmer for 20 minutes.
Remove baklava from oven. While hot, spoon syrup over it and allow to fully cool before serving.
Sort: