Fresh Roasted Tomato Panzanella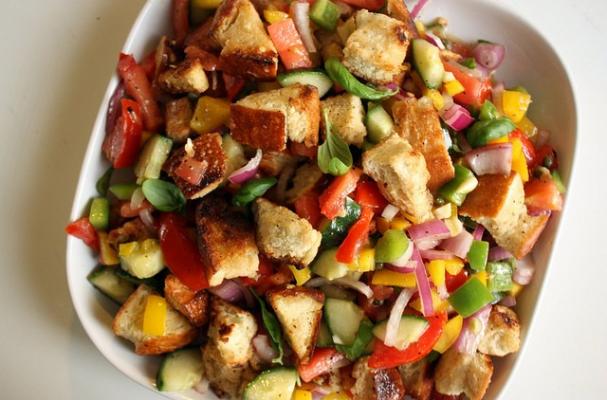 Panzanella (or Panmolle) is a Tuscan salad of bread and tomatoes that is popular in the summer. It includes chunks of soaked stale bread and tomatoes, sometimes also onions and basil, dressed with Olive Oil and Balsamic Vinegar. It is also popular in other parts of central Italy.
Ingredients:
3 tablespoons Salado Olive Oil Co.'s 25 Year Dark Traditional Balsamic
3 tablespoons Salado Olive Oil Co.'s Cold Pressed Extra Virgin Olive Oil
1 teaspoon Dijon mustard
salt and pepper to taste
2 large packages cherry tomatoes
1 large package yellow cherry tomatoes
2 cloves sliced garlic
1 loaf sourdough oval bread
1 8 oz. package mozzarella balls, chunks or pearls
1 cup basil leaves, torn into pieces
Instructions:
Heat oven to 425 degrees. In a bowl, whisk balsamic, oil, mustard, salt and pepper. Toss tomatoes and garlic with 2 tablespoons of the dressing then spread on 2 rimmed baking sheets. Roast for about 20 minutes, turning after 10 minutes to coat all. Remove from oven and let cool.
In the meantime, heat skillet or grill to medium heat. Slice bread lengthwise into 1 inch slices. Coat with nonstick cooking spray and grill bread 2-3 minutes until toasted. Cut into cubes and combine bread cubes with all the rest of the ingredients. Put in a very large bowl and top with remaining dressing. Toss just before serving.
Sort: